The Award Winning Smash Hit!
NEW ORLEANS AMBIE AWARDS: BOOBS! WINS BEST ENSEMBLE PRODUCTION!
BOOBS! THE MUSICAL Wins New Orleans 2005 BIG EASY AWARD!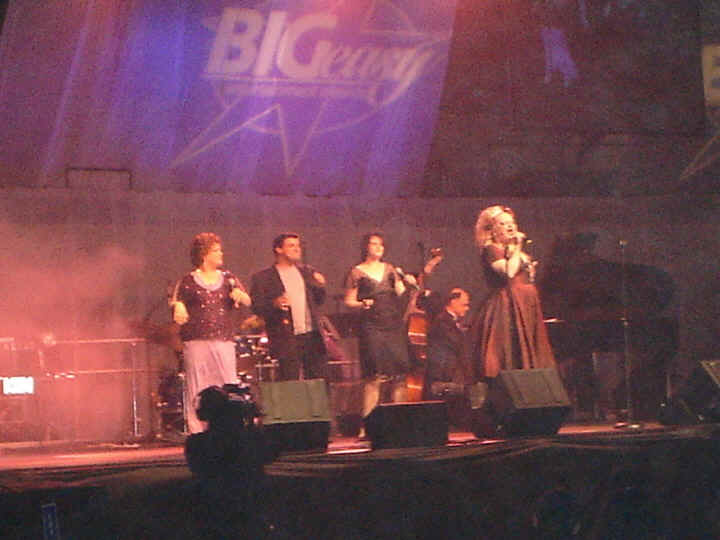 New Orleans Boobs! The Musical Cast Performs At The Big Easy Awards!
NEW ORLEANS TIMES PICAYUNE: "Thanks for the mammaries...giddy silliness, a refreshing laughter libation. Lawrence Leritz re-created his consistently inventive choreography"
New York's 2004 MAC AWARDS: BOOBS! Wins BEST MUSICAL NOMINATION!
New York Blade's Top 5 Best Theatre Picks of 2003: Avenue Q, Boobs! The Musical, Wicked, Gypsy & Long Day's Journey.
Reviews:
THE NEW YORK TIMES: Anita Gates "Boobs! The Musical exudes a joyous innocence, saucy and silly! There's a lot of talent onstage! The six person cast is expertly choreographed by Lawrence Leritz and directed by Donna Drake."
NEW YORK MAGAZINE: John Simon "Boobs! is subtitled The World According to Ruth Wallis, and a canny, tuneful, and niftily naughty world it is. Good pianism, with hummable melodies and booby-trapped lyrics. All the performers are good. Lawrence Leritz's choreography is appealing apposite (perfect); Robert Pease and J. Kevin Drave's costumes, hilarious."
NEW YORK DAILY NEWS: Robert Dominguez " A bawdy and consistently amusing revue."
NEW YORK POST: Richard Johnson "Boobs! has audiences rolling in the aisles!"
SHOWBUSINESS: "The show is actually clean as a whistle–we supply the dirty minds it takes to finish their jokes. The real boobs are in the audience. This formula of mock surprise and genuine hilarity works wonders for the show. For Boobs more than any other production I've seen–off-Broadway or Broadway–do the offstage figures deserve commendation. The cast brings comic ability and good singing voices, but they are enhanced by Robert Pease's and J. Kevin Draves' phenomenal costumes and Lawrence Leritz's choreography and musical staging are exceptional-flawless."
VILLAGE VOICE: Michael Musto "Boobs! The Musical is a revue of numbers by Ruth Wallis, who in the Rock-and-Doris era devised dirty ditties like "The Dinghy Song" and "Johnny's Got a Yo-Yo." As in life, the raunchier the songs get, the more amusing things become. Dinghy on down, you yo-yos!"
NEW VOICE: Marjorie Gunner "The prankish cast of six at the Triad restores all nineteen songs, cleverly costumed and be-wigged by Robert Pease and J. Kevin Draves and wild choreography by funny Lawrence Leritz. Nice work!"
The New York Blade: "Enough camp for a Boy Scout jamboree."
NYTheatre.Com "The off-the-wall skits are wonderfully designed to exemplify the songs performed. There are no limits. It works beautifully. The musical staging by Lawrence Leritz is also great and never fails to pass up a laugh. Finally, the big, gorgeous and colorful costumes designed by Robert Pease and J. Kevin Draves are just amazing. Boobs! is extremely fun with many unexpected surprises."
HX MAGAZINE: "The way over-the-top costume design of Robert Pease and J. Kevin Draves is pleasantly reminiscent of Forbidden Broadway or Howard Crabtree's Whoop-De-Do, and Lawrence Leritz's witty choreography reflects the light touch Wallis has as a songwriter."
LONDON FINANCIAL TIMES: Brendan Lemon "Wallis's ballads come across touchingly, especially when rendered by the evening's Wallis stand-in, Kristy Cates. With only a piano for accompaniment, Boobs! has been inventively choreographed by Lawrence Leritz and costumers Robert Pease and J. Kevin Draves' salute to Shirley Temple is truly demented."
THE NEW YORKER: "In a theatrical performance of twenty-one of Wallis's hits, the humor and observational powers of Wallis's lyrics can now be fully savored.....six talented actors sing the songs in a high-spirited revue."
Playbill: Today In Theatre History, Jan. 21st, 2005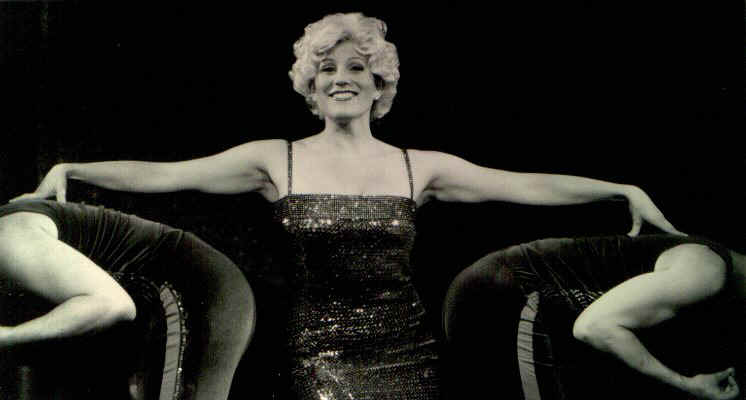 Kristy Cates as Ruth Wallis

UNANIMOUS RAVE REVIEWS- CRITICS AGREE- BOOBS! IS A SMASH HIT!
REVIEW: NEW YORK MAGAZINE
REVIEW: PROVIDENCE EN ESPANOL
SRU PRODUCTIONS, LLC - Tel. 917 774- 4784 or 212 765- 4523
Lawrence Leritz, Producer
Email: BoobsTheMusical@aol.com